When we got down to the lobby, we saw Roy sitting there with crutches by his side. He said they think he might have chipped a bone or two in his knee. He had to wait for an orthopedic Dr to check out the x-rays and call him back. I asked John if he would help Roy by bringing his bike from the motel to his house until Roy could figure out what to do, seeing as he is 3,000 miles away from home. John said no problem ,we'll take care of him. This too shall pass….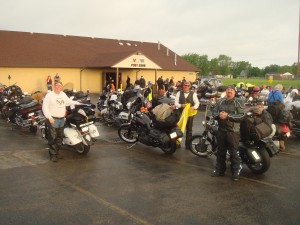 We rode to the VFW post # 3288 for another wonderful breakfast provided for us. Every one did a super job and the mayor came by to wish us well and tell us we are welcome in his town anytime. We left with about 120 bikes and we had rain gear on this time as the storm cells were not over yet. It was not raining for the first 120 miles as we pulled into the VAMC in Chillicothe for a 'ride through' to wave at all the patients and employees and stop for a short while to take off raingear as it was getting quite warm. (I'll tell ya later how that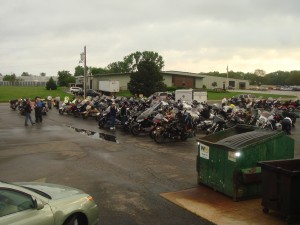 decision works out for us later in the day). After that quick stop, we went to the fuel station and met up with a lot more riders who were waiting for us from Chillicothe. These are really good people to hang around withas is evident in last years story. We rode a couple of blocks away to Southwestern K to 12 school. When we pulled in, there were a lot of kids waving to us with a lot of enthusiasm. The school band was ready to play for us and a few more people spoke before we got down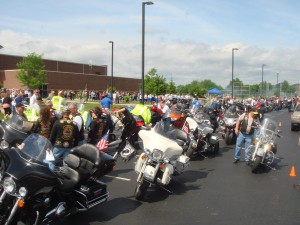 to another fantastic lunch & desert layout that took many tables end to end to hold ALL the food for us.
After a two hour program, visit, and lunch we said thanks and goodby and rode another 90 miles to a gas stop. When I pulled up to the pumps I tried to turn my switch off and it was frozen stuck and I could not turn the bike off. I pulled the wire off to stop the bike, and took care of the gas stop. I put the wire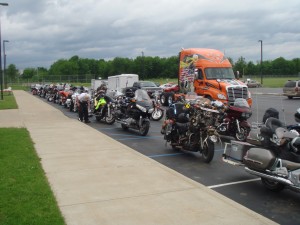 back on and started it and got back in line before getting out some pliers to free the switch. It seemed that it melted inside and failed to function. I spliced the wire for the  head lights, brake and tail lights to the ignition wire and when I want to start it, I push the spade terminal onto the male part of the switch. I just pull it off when I need the bike to turn off. Wiring made simple by rat bike Milo design!
Back on the road again for another 70 miles to the Clarksburg, West Virginia VAMC to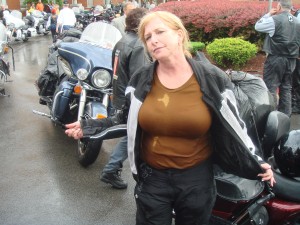 visit with the veterans. About 10 miles before we got there, (back to the rain gear that came off a couple of hours ago), the skies opened up so much and so hard that we could hardly even see the bike right in front of us. A few of us turned our flashers on to help guide the bike behind us. There was NO place to pull over as we were on a narrow back road going to the VAMC. We just had to ride with faith in the other riders ability to pilot his or her bike skilfully and not hit anything, or else it would be a very serious domino effect. It was very wild and quite challenging. When we finally pulled into the VAMC it was still raining but had slowed down quite a bit. The people there asked us if we just road through that big hail storm. We just laughed and said, "what hail storm?", as we were all soaking wet and dripping like a dog who just got out of a pool,  before he started to shake off all the water. Yep, another wrong decision about rain gear!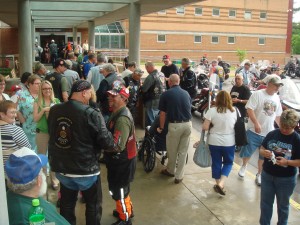 We then went a couple of more miles to the VFW post# 573 for our last dinner together and certificates of appreciation to be given out to our key people who did a lot to get us from coast to coast safely. Before we went in, we did a few group pictures of the "all the way" people who rode from California to DC. There were 28 of us for the first picture and a whole lot of us, 150 plus or minus, for the big group picture.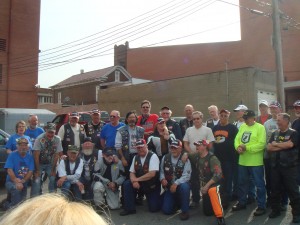 It was a mad dash to get to the bikes and ride the the last 5 miles to our motel, as check in takes a LONG time with this many people. I gave Nancy my credit card to do our room when she got her and Gary's room, and I had time to go get gas, talk with a lot more people and get back and she still was only half way to the front of the line. Joni and I got some new NVAR run shirts so we can all look like a group when we go to Arlington tomorrow to lay a wreath at the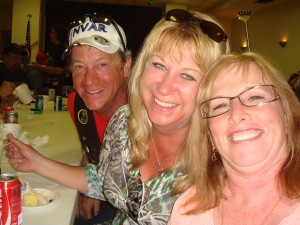 Tomb of the Unknown Soldier.
Something I had not mentioned yet is the pictures that we all carry. The Sons & Daughters of Vietnam soldiers, that are STILL classified as MIA, gave us about 150 pictures, which has the date when they went MIA and where and a few words about them. They are in a laminated clear sheet to keep them waterproof. When we picked out who we wanted to take with us and remember them, we also put our names and email on a master sheet so the families can send us a thank you. I got Major Lonnie Pat Bogard who went MIA on March 12th 1972. Doing that really does bring the whole MIA/POW situation up to a whole new level of awareness. When we get to the WALL in DC tomorrow we will look up where their name appears on the many black granite panels and lay the picture at the base of where their name appears. That helps it become more than "just a name".  Thats a pretty heavy thing to think about for the whole trip. What deep meaning that alone brings to just a part of the reason that we do the National Veterans Awareness Ride. More to come tomorrow…..DC!