My brother, Brion, is recovering from colon cancer surgery. He just started back to work part time this week. Aside from looking a little thinner, he seems to be doing fine. His Dr. told him that he believes that they got 100% of the stage T2 cancer. He told Brion that he's going to live. Brion seems to be in good spirits, considering the life changing news that he got a few months ago. This too shall pass……a few more prayers sure couldn't hurt.
We stayed an extra day to visit more. After a half day at work, Brion wasn't in the mood to ride his shovelhead yet, so we drove to lunch and back home for him to rest. We are glad that we stayed another day just to hang out. We were up at 5:30 this morning and saw Brion off to work at 6:15. We were on the road before 8:00 taking I-90 out of town to Buffalo. We then took 16 over the very chilly Big Horn Mountains. We went through the small town of Ten Sleep and on to Worland for fuel and a sandwich. Then it was north to Greybull and then west to the town of Cody.
We always like stopping in the very cool western town of Cody. We have toured the Buffalo Bill Museum, played miniture golf, saw gun fights in the street (no not gang bangers), and had meals at a lot of good places to eat. My favorite place to stop is at Cody Custom Cycle to visit our friends, Ray & Kathy. They have owned it since 1994 and know how to treat people right. On a ride to Sturgis in 2003, I discovered that my frame was cracked in two. A quick ride from the motel to see Ray and he set me up with a welder, grinder and anything else that we needed to fix my frame out behind his shop. One of the guys who was with us, Gordon, did the welding part of the repair job for me as he is a lot better welder than I am. The frame fix is still doing good 8 years later. Ray would not let me pay him anything, so I called back home and had Oregon Tool & Supply send him a cobalt drill bit set to say thank you. Thats the kind of 'real folks' that Ray & Kathy are. They are there to help. I gave Ray another Oregon Tool & Supply t shirt and he told me to pick out one of their Cody Custom Cycle shirts for us. We have been trading shirts for years. Kathy made sure we both got one. Thanks guys.
Joni & I hung out at their shop for over an hour till almost closing time and Kathy called the Wyoming Rib & Chop House for reservations for us. We went to check into the Cody Motor Lodge while Kathy rode home to feed the horses. Ray closed the shop and they both met us for dinner, which was only a block away from our motel.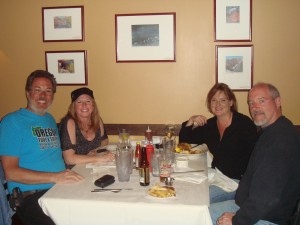 We had an excellent 'dinner date' and conversation as well. We invited them to spend some time with us back home in Oregon when they can get away. We said good bye and went our seperate ways as we are trying to do another early morning departure. We were informed that the pass just inside the east entrance of Yellowstone Park is very cold and has a large snow build up right next to the road on both sides. Our plan is to go in the east side and out the south side to Jackson Hole tomorrow. I will let ya know tomorrow how that worked out for us……