My cousin Roy called me at 7:00 am and said he was leaving St Paul to start the 4 hour ride toward us. He figured that we will probably meet up on the road as he would probably recognize my bike(?). Joni & I left the motel after breakfast at around 8:30 or so. We snaked around quite a few country roads and saw some beautiful farms and a lot of green scenery. We even encountered a wagon train coming the other way. The first few guys and gals on horses were wearing bright safety vests. Then there were about 12 to 15 covered wagons full of a lot of people dressed in the period proper western wear clothing of the era. The last few riders were like the first with the safety vests on. We proceeded very slowly so as to not spook the horses. It was a very cool thing to witness. We have no idea what it was for but it looked like they all were having fun, waving and smiling all along.
We went through the town of Viola and a couple of miles later, we turned right on county hwy G. A short distance later on the left was a very large facility that did not fit with the rest of the typical landscape that represents the farming community. S & S started in 1958 out of a small machine shed next to the family farm. They did dual chores, farming and machining. That is why the place is where it is. They just kept adding more buildings as the need arose over the past 5 decades. Their distribution center is in La Cross, about an hour north of there.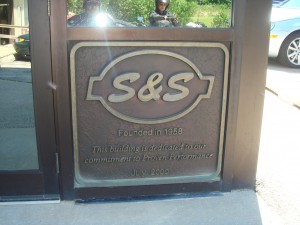 I walked into the office entrance and there was nobody to be found. There was a phone with a list of a lot of personal extensions. Too many names, so I punched in a # that was for general information. I said I am Milo Anderson, and before I could say any more, he said we've been expecting you and I will be right down. We were greeted by Ian and he told me some more people were on their way to meet us too. Next Dennis showed up and said he will be interviewing me later,
after the tour. Dennis worked at Harley Davidson for 27 years, if I remember correctly, and has been at S & S for a couple of years.  We started in the museum and saw a lot of interesting bikes and engines. There was also a lathe and a Bridgeport milling machine on display that were probably the first ones used for the manufacturing process. A short time later, Tim joined us and said he would be giving Joni & I the grand tour. Tim has over 20 years at S & S and was very knowledgeable in
every phase of the process involved. They do not do the rough castings there, but they perform miracles making the finished products. We saw rough case halves, heads, oil pump bodies, carb housings and every other engine part, and a lot more too that you can imagine. The automatic C&C machines were amazing with the things that they were doing. Tim told us that they recently purchased the Crane automotive and motorcycle accessory manufacturing company. They were also making rocker arms and lifters for the automotive industry there now as well.
They gave us the red carpet treatment and took us to all the different processing rooms and finally the assembly of the finished products. They work on 3 or 4 engines at a time, not necessarily the same kinds either.
 We were also informed of a deal they have with HD and they now do all of the remanufacturing of the engines that Harley Davidson takes in to have rebuilt. They work on a line very similar to the S & S rebuild line too. We were very impressed with the overall treatment which we received while there. Everyone was real cool and very willing to talk to us and I got a lot of compliments on my bike as the employees took turns taking their breaks and checking out my bike. At the end of the tour Dennis asked us to ride around to the front to the flag poles and their dedication plaque to the fallen victims of 911. That's where we met Justin as he was setting up the video and sound for the interview. Wow, was this ever a very welcome feeling coming here. I wonder if everyone gets this 'top cabin treatment'?
Dennis asked us a few questions and we handled it like pros, (we were told). I told them that I have done this a time or two before! Dennis gave us a 'parting gift bag' of a couple of shirts, hat, books and a pin that I put on my bike right away. 
We thanked everyone and were just about ready to pull out of the parking lot when Roy pulled up. We turned the bikes off and talked a while and we all three headed back up north. Roy lead us up next to the Mississippi river, on the Wisconsin side, through some very beautiful scenery. The small towns held a lot of history and I could just imagine Tom Sawyer and Huck Finn pushing off of the shore on an adventure of unknown sorts.
After a couple of hours we pulled into a restaurant for lunch. It was very cool to see Roy again and ride with him too. We got to St. Paul with very little traffic and to his house. It was a very beautiful ride all the way up. The Mississippi river was a lot fuller than normal and the land of 10,000 lakes were really showing off their fullness too. Roy showed us some of his town and treated us to a nice Italian dinner. One of his sons, Jim and his wife Kathy, came over to visit for a while too. We stayed upstairs for the night and Roy made breakfast for us in the morning.  It was a beautiful morning ride, but that was soon to change, again…..
We took Roy's advice and took hwy 212 all the way west instead of doing I-90. It is a much better country road, than the boring super slabs. The first couple hundred miles was not bad. It was looking very dark ahead of us. Thanks to Nancy, who loaded a 'weather bug elite' program on my phone for me, we were able to see ALL the storm fronts approaching us. Thanks a lot Nancy! As Joni and I were leaving our lunch stop, she wondered aloud if we should put our rain gear on as it was really looking nasty up ahead. I said we can deal with it when we need to.
It was only 15 miles down the road when I pulled over to a gas station. No, it had not started raining yet, but it is easier to put it on while we were still dry. I think Joni had a great thought 15 miles back. As we headed out west some more, it was not too long when we experienced that good old rain again. At least it was not as cold as it was in the past. And yes we were very glad we were prepared this time in advance….
We got to Woonsocket, South Dakota, and went to another cousin's home. Jerome and his wife Leslie were very glad to see us. Jerome's brother, Ken and his friend, Velma were there for dinner too. They had a top notch steak dinner just waiting for our arrival. Before Jerome could get the steaks off of the BBQ, another storm came in from the west. Thunder, lightening and a LOT of rain again. This time we were hunkered down for the night and our bikes were in their shed. Ken, 85, and Jerome, 72, and I are first cousins as their dad and my dad were brothers growing up on the family farm, there in Woonsocket, with nine brothers and sisters. The only thing that we would do different next time is to possibly stay a little longer at our family stops as we learn a lot more about our heritage, and they are great relatives too!
  We woke up to another great home cooked breakfast as Leslie was busy getting ready for us to come down to eat. After breakfast, Leslie wanted a ride, so I took her to 'downtown' Woonsocket on the rat bike. Yes we rode on both blocks of downtown. When we got back we got on Joni's bike and we did the cruise again, only this time we did both blocks in the opposite direction. I didn't even scare her, either time!
It was time to load up and stop at the gas station for a fill up. I talked to the owner and told her we were related, a couple of generations back somehow. There were some other guys there too who came out to check out my bike. One guy told me he was a Viet Nam vet and thanked me for our NVAR ride that I told him about, and said he would really like to get to DC and see the wall. After we talked about our ride there for a while, he got on his Harley and rode off.
I recon it was around 10:00 or so when we said our good byes and headed west again. We stayed on two lane county roads for about 70 miles and were advised to head south down to I-90 as there were a lot of closed roads near the state capitol of Pierre, due to all the flooding that they have incurred recently. It was a very warm and dry day as we were enjoying being dry and riding in the sun.
We stopped for gas at Wall and had lunch and went to a fairly new Harley shop called Badlands HD. We were greeted by a very friendly gal, Sorrel, who told us she was Miss Rodeo South Dakota in 2006. She still has the bubbly flair that it takes to be herself and make people happy. Joni bought a couple of shirts and we got back on the road again.
We got to my brother, Brion's, home in Blackhawk about an hour later.  Brion and his wife, Danette, were waiting for our arival. They called for my two nephews, Frank & Jessie, and niece Krista to come over for dinner with us. Frank's girl friend, Hillary was with them too.  As you can see in the picture, there is height in my brothers family! It was a nice visit over pizza and I'm glad they came over to say hi.
 It has been a great trip so far with all the family stops that we are able to make and catch up with people.