Saturday was a little hectic for all involved. The wedding was at 5:00 at a golf course about a half hour from Gary & Nancy's home. All the females in the wedding party were at the house at noon with pictures at 1:00. Kristi's brother, Mike, was there too and after a while, he was going to go over to Brian & Kristi's place where all the guys were getting ready. I figured that was the place for me to be so we left all the females and headed out of town. When we got there it was obvious that the guys had a lot of
fun the night before. Kristi stayed at her mom & dad's home with us last night. It was kinda funny watching them get all their tuxes on right. They were still having a great time before the wedding.
Joni called me from the place and said we need 4 sand bags to holddown the arch where the stuff was to be said, the I do's and that kinda stuff. Mike & I went off to go to find some sandbags. I spotted some holding down some construction signs, but they were kinda dirty. So we
Joni was being a self appointed traffic director and trying to help get the ushers to properly seat the arriving guests. All worked out pretty smoothly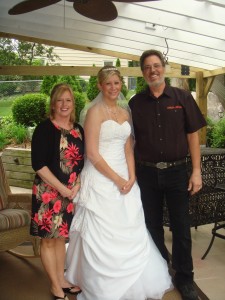 after a short while. The performance was out side and it was a little chilly, especially for all the gals with sleeveless dresses. It all went over very cool and it even included a bit, ok a lot, of laughter as well. Then it was inside for happy hour and dinner and dancing. All of the wedding party was introduced by the DJ, and they all made a very good entrance. The dinner was steak, chicken and fish. It was a very good catered affair. When it was Gary's turn to give a speech, he said a few heart felt things and then said, "may all your up's & down's in life be between the sheets"! That got a very good response from all of us, and Kristi couldn't believe her dad said that!  Everyone was having a great time. All of it went over just as planned.
It was around 10:00 and Terry and Sandra said they were ready to leave. I asked them how far they lived from Gary & Nancy's place. We said good by to a few people, got he house key from Gary, and got a ride back with them. They were going to DC the next morning and it was good timing for us to get a ride back. Thank you Terry & Sandra.
Midnight was when it got over and a good time was had by all. Nancy got up early the next morning and went to the motel and got Brian & Kristi for today's brunch that was planned for 11:30. A lot of people showed up for it and it was a very good meal. Joni & I decided this morning that we would get a head start on the day and get 4 or 5 hours of riding behind us, instead of making it a 10 or 11 hour ride tomorrow. We said good bye to all and thanked our hosts for all they have done for us. We always feel very
much at home with them as we consider each other like family. It was hard to leave, but we have been on the road one day shy of 4 weeks, and it was time to start the west-ward trek again.
We headed up toward Milwaukee and then over to the west as our destination was near the S & S engine manufacturing facility in Viola Wisconsin. I sent them an email earlier and asked them if they wanted to see a unique rat bike that one of their engines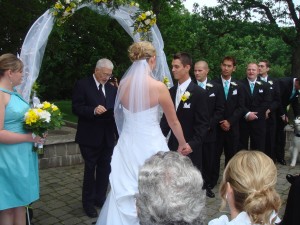 has been powering for the last few years. The response was, come on over for a tour. I already called my cousin Roy Hillstrom who lives in St. Paul, Minnesota with his wife Shirley. That is to be our next stop tomorrow afternoon. Roy is going to ride down tomorrow morning and meet up with us and join us for the ride to his home. S &  S pictures tomorrow…..