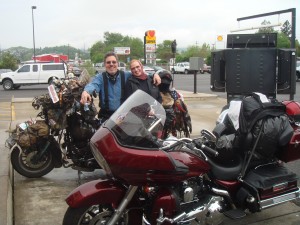 Joni and I left our house at about 7:20 this morning under a very dark and ominous sky. It had rained very hard all night and slowed to a mist when we were leaving. We rode to Loves gas stop on I-5 just South of Roseburg this morning for an 8:00 am departure. Nine bikes and Ray Adams, who is again our trusty chase truck driver, and Carrie Booth riding with Ray. Carrie works for the VA in Roseburg and last year was her first year with the ride. She did the reporting for the run site www.NVAR.US as well as for the VA back in Roseburg Oregon. It was a very chilly morning as the rain was falling more the farther south we went. By the time we reached our first fuel stop at Ashland, we were all pretty wet. Fingers were cold and a couple of the guys with us did not grease their boots before leaving, as was evident with their 'wet feet stories'. I told them about putting on a pair of socks first, then a bread bag and then another pair of socks. It does wonders for keeping feet warm and dry.
We got ready to take off and I decided it was time to plug in my electrics, only to discover that my plug end on the bike had at some point in time fell against the exhaust pipe. It was too melted to plug in so I braved the Siskyou pass with no heated stuff. During that run Ray got a call from some of the guys who were waiting in Auburn. They left at 12;30 to ride over Donner Pass to Reno due to the snow and incoming storms. They just made it over the pass and the highway dept closed the pass right behind them! Plans changed for everyone. Larry, Gary and the crew who left Illinois last week were stuck in Virginia City, Nevada due to snow, ice, and closed roads. Larry took another route and rode 8 hours to do a 2 hour ride and made it to Auburn. The other guys chose to wait out the storm and stay on the east side of the Sierras. Another couple of groups also left the Midwest and saw a lot of snow as well.
We stopped at the Weed rest area (no, that's the name of the town) and talked about our new route as I fixed the melted end on the electric plug. Barry and Tami turned around and rode back to Roseburg, it was their one day ride plan. We went over McCloud and the Mt. Lassen park area. The snow was falling at a pace that looked like the lights on Star Trek when they did "warp speed"! It was building up on the windshields and our visors at a rapid pace. Ray mentioned that we should have noticed the warming trend when we dropped down out of the higher elevations at 32 degrees to 39 degrees when we stopped in Susanville for lunch. I found out what happens when I have a knitted scarf around my neck that wicks the water all the way down the front to my pants under the rain gear. It was time to dig into my gear and get a dry shirt.
We all fueled up and took off to do our last 85 miles to Reno in the still very cool and heavy rain. To our surprise, about 40 miles down the road, the sky actually had a little blue in it and the rain slowed down . We were going along at a good pace when Terry Mooney who was leading, suddenly took an off ramp leaving us no time to get off so we all stopped on the side of the highway. I looked in my mirror and saw Joni's bike at quite an angle. Crash bars are a really good idea, they save a lot of stuff. She was wearing a set of new 'over the gloves' mittens. She could not hold on so she just stepped off and was laughing uncontrollably! We got her bike back upright and Terry got the bug out of his eye, and we continued on to Reno.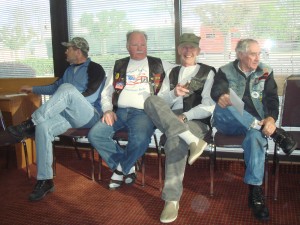 We got to the motel and saw quite a few bikes all covered up and most of the people were at the restaurant. As they made their way back here we gladly greeted a lot of good old friends from past rides. Svein is here from Norway again, and there were people from Michigan, Illinois, Wyoming, Indiana, Ohio, Colorado, Texas, New Mexico, Iowa, California, and I know I left out some states. We had a group meet and greet at 7:oo and there were 38 people there. It was great seeing everyone again and meeting new folks as well.