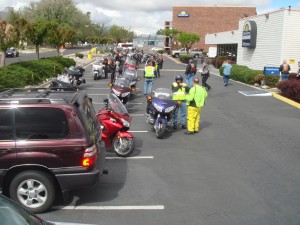 This was the only day we got to sleep in, to 6:30! We woke up to sprinkles, not quite rain yet, and walked to the restaurant for breakfast. We said good by to Ben & Margo & Gary & Donna as they were going to ride back home to Roseburg. We had a riders meeting inside and got a police escort to the VA medical center about 5 miles away. This was a very different day as our schedule was messed up with no stop in California for some of us anyway. We went in early to visit patients but quite a few were not up yet at 10:00 am. We spoke to Mr. Wilson, who has the fastest scooter in the hospital as an inpatient. The nurses and staff only called him Mr Wilson as they said they didn't know his first name. He is quite a character. We spoke to James for quite a while, about his service as well. The one that really stood out to me was Tom Moody. He wheeled himself out to the bikes and was very impressed with the rat bike. He kept asking everyone, "where is the owner, I gotta meet him"? When we finally ran into each other, he told me that I am his hero! He has seen my bike in a lot of pictures and on TV as well. I told him that HE is the hero for serving our country. I just ride my bike around with a lot of other riders thanking people like him. We talked for a long time and he said that he is glad to have another web site to read about with this one. I wish you well Tom Moody!…..
Stephanie was our tour guide and she was told about this wild bike that will be here. She told them that back home, in Roseburg, Oregon, where she just moved from, there is a real wild bike that shows up at the VA for some of their local functions. She transferred to the Reno VA a couple of months ago. She was surprised to see that it is me and the same bike that she has seen riding around Roseburg. She and her husband spent 3 years at the Roseburg VA. Everyone was very thankful that we were there again and we felt very welcome. We were served a box lunch and then went back outside for presentations and farewells as we saddled up to head east again.
We went about 40 miles down the road and stopped at a Northern Nevada Veterans Cemetery where some of our guys laid a wreath. Buzz spread some ashes by the sign as we were entering.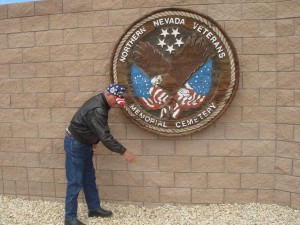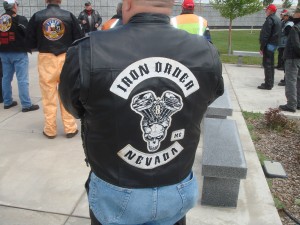 We met Muncher and a few other members of the Iron Order M/C. They take personal pride in the cemetery in their own back yard.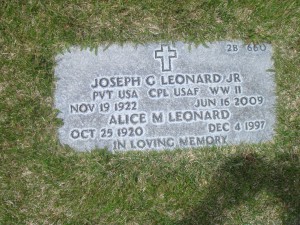 While we were there we stood over the grave of Joe Leonard, an American Indian who was a Pearl Harbor survivor, and said a prayer for him. When we used to stop at Battle Mountain, where Joe lived, it was to meet with Joe. He died in 2009, but before that we would see him and talk to him about his service and the Pearl Harbor scene. Joe always looked forward to our arrival and got a lot of other people to join in as well.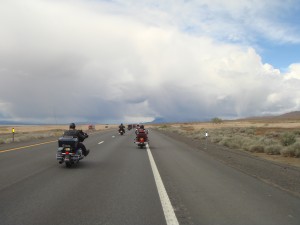 Rain, rain, rain was the thing to look forward to!  The scene changed when it was putting a lot of hail on us and the road. It was bouncing back up and was able to hit us not only from the top but from the bottom too. Boy were we ever lucky! It was also very cold as we even saw Svein (from Norway) who almost always rides in sandals only, put on two small trash bags over his feet, under his sandals.
I noticed during our next run in hard rain, that Joni's saddle bag lid was not latched all the way and pointed it out to her. I told her that I would keep an eye on it. Shortly after that I decided that we need a NEW rule. The NEW rule is the next time we see her saddle bag lid unlatched, we pull over right then and there to take care of it. It would have been a whole lot easier to do that than to stop well past where her stuff LANDED on the soaked highway after it flew open all the way. I had quite a long walk going west back against the driving eastward rain! All I saw was a black blob fly out, and I figured it was probably her purse that she keeps on the top of that saddle bag. When I got to it and saw that it was only a sweater (they make more), all I could do was wait for the trucks to pass and get it and bring it back. Steve (Headdog) Moore was the tail end bike who stopped and waited for us. when we took off again, it was 85, 90, 95, 100 mph to catch up with the group. Steve mentioned something about the balls that Joni must have to ride that fast in the rain. She said she was just trying to keep up with me.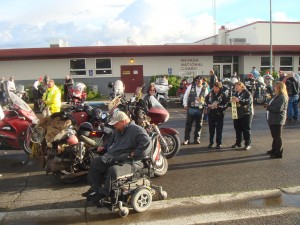 A few miles before Elko, a cop was escorting some POW*MIA riders as they passed us at 95 mph to give us an escort to the Nevada National Guard hall for dinner. It was supposed to be in the park, but the rain moved it inside their hall. It was a group effort of the VFW, American Legion Riders, and the MIA*POW Awareness Association to host us for the first time ever as Elko was not a regular stop for us. After our reception it was determined that Elko is now to be our regular stop for dinner and the night. A lot of good folks there made us feel real welcome. Les Brown did the speaking from his heart as we were told of a current POW SPC Bowe Bergdahl US Army, who was captured in Afghanistan on 6-30-09 and is still in captivity over there. That hits close to home as we were able to put a face to the name of the kid from Idaho, and to know that it is very rough over there for all of our brave troops. We were also introduced to a Master Sergent, as she is to be deployed to Afghanistan this friday who got very emotional at our applause, and thanks.  Back on the bikes for fuel and then to motel. Stay tuened for more wet stories tomorrow!………