5:15 was the call to wake this morning. Joni spent quite some time cleaning her bike last night, almost guaranteeing more rain today! We rode a few miles away to the American Legion post 6 for breakfast. They have been hosting us for breakfast as long as I have been doing this run. They are as happy to have us there as we are to have another meal provided for us! Thank you Virginia and crew… We were joined at breakfast by Debbie, who is the recreational therapist at the VA, and her husband Larry. They rode with us to the first gas stop before they returned back to Cheyenne. We had another police escort to get us back on I-80 east again. I am sorry that I did not get time to stop by Maverick Harley Davidson and say hi to Jason & Justin. I was treated like a celeberty when they let me change my engine there in 2008, after I scattered it in western Wyoming while on this run. See the 2008 story for more info. Thanks again guys.
We had our riders meeting inside and were on the road at 8:00. We went another 100 miles to Sidney for fuel. It was getting a bit more windy. This morning was Joni's privilege  to ride in the missing man formation. The front 5 missing man formation consists of Steve Mulchay, our National coordinator, leading in the left of the lane. The asst. coordinator, Terry hoops, rides beside him on the right. the next row consists of one single rider directly behind Steve in the left side of the lane. The void on the right represents the "missing man" who is who we ride for. He or she is whoever one wants to imagine it may be. Possibly a fellow soldier, listed as an MIA, who never returned, or a lost friend who left this earth much too soon. One's imagination lets the emotions flow unchecked when riding in that position and looking over there wondering, "what if'"? It's really a privilege to get to be in that position. The next row is Mike Kline, in the left of the lane, who is our 'missing man' coordinator, and next to him is Kent Wilson, who is our ride Chaplin. The next group of riders is that of our fearless road guards who block traffic and make out passage safe when we go through red lights, and they let us stay together as a group. Ten miles before we are to exit, Steve sends them out to do their mission and be ready when the group arrives. The next group is the main pack led by our fearless pacer, Paul (Buzz) Neeb, who rides in the left side of the lane.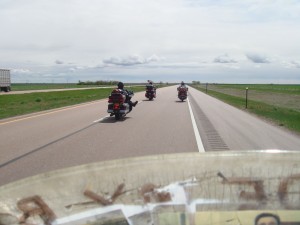 When we started out this morning, Joni was in the front group ridding missing man, and I was riding right beside Buzz. Everyone behind us in the main pack rides in a staggered formation, followed by Steve (head dog) Moore who is the "Tail Gunner" bike at the very rear of the pack, who makes sure everyone is doing OK. We were all in the same formation on the second leg except Kent, who was on another temporary mission. Buzz sent me up to take Kent's place in the missing man formation. Now THAT was very cool being in the formation with Joni doing the missing man as well! What a treat……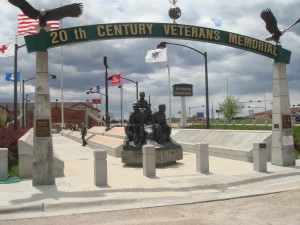 Our next stop was for fuel in North Platte, and then we rode across the road to the war memorial for a sack subway lunch provided by the North Platte Fire dept. Thank you guys! We were there for a while visiting with a couple of dozen more riders who were waiting there to ride with us when we leave. The skies were looking like our normal real rain on the plain thing again. It started again for a short while. Then we actually saw the sun for a few moments.
When we left there, I had the pleasure to ride in the missing man formation. My thoughts were of Allen Buckle, my best friend who left this world on 01-01-95 in a motorcycle wreck. His picture is and has been on the inside of my windshield so I can talk to him all the time. Joni traded positions with me and was riding beside Buzz. We rode on a secondary 2 lane, highway 30, for another 100 miles to Kearney for a quick fuel stop. There were a few more dozen riders waiting for us there too. Dave Eastman was one of them who was taking pictures as we all rode in. I've spoke with Dave over the last few years and he is a super guy with a lot of heart. Thanks for being there again Dave! When he gets enough vacation time, he plans to join us for the rest of the ride. One of the Kearney motor cops, Scott Gronewoller, sat on my bike for a picture, before helping escort us down the road.
We went another 56 miles into Grand Island to our final destination city of the day. We pulled into a beautiful patriotic scene of a gigantic American flag flying from the Grand Island Fire dept. ladder truck overhead. There were a lot of Veterans who were waiting to watch us all ride in. The first people we saw were Joni's nephew, Josh and his wife Megan and their two sons Calab & Jonah. They live 2 hours north in Norfolk.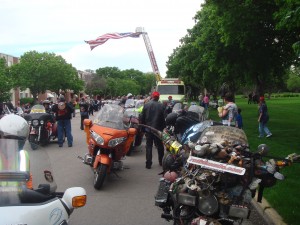 We had not seen them for about 3 years since the 2008 ride. The mayor and a Senator said a few words of praise for our unselfish mission and for our Veterans, past and present. Bill, who is the Nebraska state coordinator, did a fine job of talking and giving out certificates of appreciation to a lot of people and agency's who  helped put the production together. Bill and Nancy plan on doing the rest of the ride with us too. A couple of kids gave me something to put on my bike. I first put Garrett on my bike for a picture and next was his brother, Dakota, and they both had huge smiles one their faces.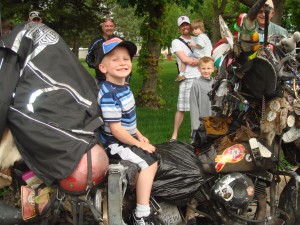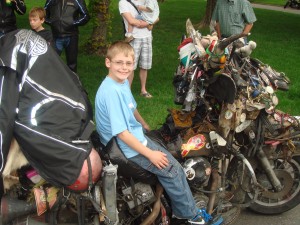 We were starting to feel a few more sprinkles as we saddled up to ride to the VFW hall a couple of blocks away. As soon as we got there, Jersey John, from out hometown of Roseburg, Oregon, was calling me. He made it to the Grand Island exit and needed directions to where we were at. I gave the phone to Bill and he told him how to get there. John showed up a short time later and I introduced him to a lot of the group.  We got back on our bikes to get to our motel room. We no sooner were on the road when the skies REALLY opened up. BIG rain and big hail that was bouncing up at us. I pulled into the gas station on the corner to get under cover. Gary, Terry and a few other guys  were waiting it out there too. I took my rain gear off at dinner and had it tied to the bike. In just the 5 or 6 blocks that we rode, I was absolutely soaked. Terry Mooney went riding through the worst of it with Kerri on the back getting initiated on the wet riding thing that we all know so well. We fueled up while we were there and a few minutes later the storm moved over a little and we took off in just a little drizzle. We made it to our motel and Josh and family stayed with us for a few hours to visit more. They are now on the way back home and it is just about time to finish this up and turn in. Stay tuned….more adventures to come…..