We had a great 7 day visit with Russ & Kathy. Joni & I left her parents in SC at 8:30 on a warm humid morning. It was tough for Joni to say good bye, especially since they live almost 3,000 miles away. We took a route that kept us off the interstates and we had the pleasure to see a lot of cool back roads and farm country. We went through a few state parks and followed a river where there were dozens of converted school buses to take rafters up and down the river rapids. There were a lot of Saturday river enthusiasts out which made for a bit of congestion in places.  We wern't in a hurry as it is only a 375 mile day, and Helen has a lot to do and will probably be back home late.
We did have to do a little bit of interstate I-24 just west of Chattanooga. We decided to get off at Manchester and do county roads. As soon as we turned north, I spotted two shovel heads at a gas station and we pulled in. We met Craig and Jack, and we had a lot in common right away. Fellow shovel head riders have usually been riding their machines for quite a long time, and tend to know them inside and out. Craig offered to take me to McMinnville to a machine shop that he works at so I could get my siren shaft fixed. I didn't feel like getting greasy by taking the unit off my bike and apart to get to the 'rub on the tire shaft'. I thanked him and we talked about his ride that he did to Alaska a few years ago. It was on his BMW, and not on his shovel head. They were both good people to run into and were a pleasure to meet. If we stay on the interstate, chance encounters like this are slim to none, and the personal touch ain't there. Back road USA is the place to meet "real" people. Thanks Craig & Jack!
We took off and rode past a lot of very neat looking farms and fields that were laid out as even as could be. Up to the old town of Woodbury where the buildings are kept up and are probably a couple of hundred years old.  Very neat town. We went west to Murfreesboro and kept on the back roads up to Gallatin to find Helen's house.  It was very hot and humid by now and we were looking forward to getting inside. I rode past her house twice looking for 1201. No # to be found, that I could see, so I called her. She looked out the window and said, "are you on a red bike"? That was Joni just pulling up. We were just about in front of her house. She came bounding out and told us that she just got home and was really glad to see us.
It was almost 40 years ago since I saw her last. It felt really good for both of us to re- connect and talk about people from the past. Around 8:00 she started putting something together for us for dinner. Her fridge was stuffed full. She said she had to get stuff for us that we would like so she had a lot of back up plans. Wow, was she ever prepared. She kept us from going hungry, that's for sure. A very good chickenstyle salad and a lot of appetizers as well. 
Helen is still 4′ 11 3\4″and Joni was surprised when she had to bend down to hug her. Me being 6'5″, Helen said that I have not changed either. I am still tall and she is still short! At 10:30 we were ready to go to bed.
Helen has a giant heart as she takes in a lot of rescue animals. 5 cats and 5 dogs here at her house and a few horses at her barn, which is about 8 miles away from here.
Up at 7:30 to a big country breakfast that Helen was a fix-en. It was all great. She had a couple of people that she wanted us to meet, so Joni & I got ready to go on our bikes and follow Helen. When she got in her rig, she discovered that she had left her switch on from yesterday. Yep, dead battery. No time to charge it so she called her neighbor to see about borrowing a vehicle. No problem, so we followed Helen to a bit of Tennessee history.
We went to the home of Mayor and Senator, Don Wright and his wife Pat. They have lived in a house, since 1971, that was built in 1793, Walnut Grove, and added on to in 1824. We had the pleasure to tour the house which has 11 fireplaces and a haunted room. There are a lot of awesome pieces of art and very old pictures hanging in every room. Don takes pride in restoring old picture frames and book ends from pieces of marble and brass figures. The house looks like a museum in itself because of
all of the 'period correct' items and furniture. Joni & I were in awe at the beauty and history of the home. Don said that during the civil war the Union troups took over the house and did not give it back until 8 or 9 years after the war. It sounds like Joan Baez song about "take what you need and leave the rest, but they should never have taken the very best'!
Don pointed to the other side of a creek and said that was the old Station Camp Creek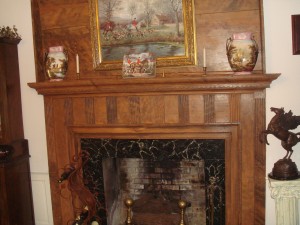 settlement from the early 1700's. The Indians ran out the early white settlers and took it over for a while. History galore! 
Don also told us of a performance, that he attended many years ago, with an unknown guy who did some singing and dancing on stage. There was a few music scouts there and Don heard one of them say, That SOB ain't going to make it in this business, EVER!. Most everyone knows the rest of the
story, of how Elvis Presley DID make it in the business!  
Joni told Don & Pat about doing the ancestry of her family and threw out a few names that she traced her history back to. They were the same names that are in Don's background. They determined that they are more than likely related and could be cousins about 4 or 5 generations back! We felt very special to be able to see that kind of history close up and have Helen take us
directly to her friends and share it with us.
Next we rode over to David Wright's house who is Don's brother. David and Jane were just as gracious for showing us around. David is a fantastic artist who has a lot of his famous paintings just about everywhere you look. They grace the covers of history books and show off his tremendous talent. We were even given a print, our choice, of one of his paintings that he signed for us. He will
mail us the print so it will be at Oregon Tool & Supply when we get back home!
Out back of his house is a beautiful stream that cascades down a lot of uniquely shaped series of blocks, or possibly flagstone, from the old days when there was an old grain mill, that operated with the water going over a large paddle wheel affair. There is history everywhere you look and we were absorbing as much as possible.
David presented me with a patch that he wore during his service to our country in Viet Nam. I put in on the front of the alligator head on the front fender. He called it a MACV patch. Military Assistance Command Viet Nam. David took quite a few pictures of me and the bike and was in awe that I have ridden it from coast to coast as much as I have. They had to be somewhere for lunch so we thanked them for our tour and for the beautiful print that they gave to us.
Helen took us to her barn so we could see her rescue horses and the other part of her life that demands so much of her unwavering attention. She takes delight in making sure that, as far as the animals are concerned, she can make animals lives much better than their past places of malnourishment and mistreatment. You can not call their past place of residence a 'home' as that word symbolises harmony and happiness. When the animals receive Helen's loving care, they truly are in a 'home'.
Helen had to put down one of her horses yesterday. Ginger, a mustang that she rescued 16 years ago, wi
th the help of Dr. O' Brien, was able to receive 16 years of a life that was not to be with out Helen's help.  The broken leg that Ginger suffered 16 years ago, usually signals the end for a horse but not when Helen found out about it. She gave me a piece of Ginger's mane for me to carry on my bike so she could still have part of her "in the wind".
When Joni looked north to a very dark sky, she said it looks like a tornado is a brewing. Helen got in the rig and as soon as we got on the road, the stormwas upon us. Lightning was right in front of us in all of it's spectacular beauty,  if you were inside that is, and striking ALL around us with the dancing fingers of electricity filling the air. The thunder was just as deafening seeming like we were in a drum and somebody was
beating on it relentlessly. No, not a tornado this time but it was a LOT of rain and 60 to 70 mph winds that were throwing us around. I saw Joni duck as a branch was blown out of a tree and Ihad to swerve around it as it fell behind Joni and right in front of me! Wow, the weather found us again. A few blocks later, Helen suddenly pulled into the front yard of a house. We wondered what she was doing when she said we can get out of the storm here. A guy was standing just inside of the open doorway of his garage and looked surprised when we jumped off the bikes and joined him. I introduced myself to Jerry, and asked Helen if she even knew him. Helen didn't know his name, but once she had stopped by at a garage sale they had. Helen said here in the south, we can stop by anywhere we need to to seek shelter from a storm. Jerry's wife stayed at the door, talking to us for a while to see what we were doing riding motorcycles in weather like this. We talked for about 20 minutes or so and Jerry told me about the tornado that swept over their house 3 years ago where4 people were killed. He was hoping for no more of those, and we were too. Helen called a friend at the emergency responders office for a report and was told that there was a small 5 minute window between storm cells and it's now or wait more. Only trouble was it took 15 minutes to get back to her home. Power was knocked out in town as there were a lot of cops out at intersections where the signal lights were not working.
When we left Helen's home thismorning, there was not a cloud in the sky and was very warm. I had on tennis shoes and a t shirt. Joni was dressed just as light. By the time we got back, we were absolutely soaked to the bone! Why would one be so prepared for that kind of weather when there was not a cloud in the sky? Just as back home in Oregon, if you don't like the weather, wait 5 minutes.
As I am writing this episode, Helen is busy preparing the evening meal. It seems that we are lucky enough to be able to spend another night, she says she ain't tired of us yet, as we want to see the storm in our rear view mirror tomorrow……